A sobering reminder of what too many ciggies can do, or at least, contribute to . . . Pleshette was only 70 years old. Last year she lost her hubby, Tom Poston, who also died from respiratory failure. Both had series-run roles on each of Bob Newhart's famous television series. She was also one of my favorite actresses, and always a class act.
Read the entire obit by clicking here: From Bob Thomas, The Associated Press:
Pleshette underwent chemotherapy for lung cancer in 2006.

"The Bob Newhart Show, a hit throughout its six-year run, starred comedian Newhart as a Chicago psychiatrist surrounded by eccentric patients. Pleshette provided the voice of reason.

Four years after the show ended in 1978, Newhart went on to the equally successful "Newhart" series in which he was the proprietor of a New England inn populated by more eccentrics. When that show ended in 1990, Pleshette reprised her role — from the first show — in one of the most clever final episodes in TV history.

It had Newhart waking up in the bedroom of his "The Bob Newhart Show" home with Pleshette at his side. He went on to tell her of the crazy dream he'd just had of running an inn filled with eccentrics.

"If I'm in Timbuktu, I'll fly home to do that," Pleshette said of her reaction when Newhart told her how he was thinking of ending the show.

She met her future husband, Tom Poston, when they appeared together in the 1959 Broadway comedy "The Golden Fleecing," but didn't marry him until more than 40 years later.

Although the two had a brief fling, they went on to marry others. By 2000 both were widowed and they got back together, marrying the following year.

"He was such a wonderful man. He had fun every day of his life," Pleshette said after Poston died in April 2007.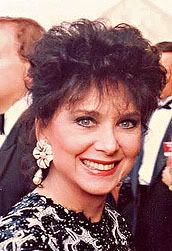 Sweet dreams, darlin' . . .
Damn, I am really craving a cigarette right now. Time for a piece of nicotine gum . . .