Just a heads up to all my co-bloggers and commentors here at Pabulum . . . you probably won't see much of me here (or on Granville, at all) over the next week. Tomorrow I take off for lovely, scenic Lombard, Illinois, where I will be attending classes from 8:30 a.m. to 6 .m., Monday through Thursday. This is the second of three "courses" towards my GRI certification (Graduate, Realtor Institute), which is proclaimed by many to be the highest professional designation for realtors (as opposed to CRS or ABR). I will take the third course in November or next January.
As Boston Betty already knows: "GRI Designation - Program Developed for members of the NATIONAL ASSOCIATION OF REALTORS® and offered through State REALTOR® Associations, the GRI program includes 90 hours of coursework on various topics such as marketing and servicing listed properties to real estate law."
So eventually, I will have more educational certificate crap to hang on the walls of my entrance hall. As Fishpaw once said, "I've never seen anyone so f*&king over-educated in my life."
At any rate, from what I've heard, it is a very intense 4 days of classwork. I register tomorrow (Sunday) at 5 p.m., after I check into the nearby Marriott Towne Suites with kitty-cat, Smokey. I chose the Marriott over the conference center hotel because I can bring the cat and for a room with a bed, separate couch, and a small kitchen, it will be cheaper than staying at the conference hotel, which is only 2 blocks away.
But I will be back behind the bar at Anvil, with Fishpaw, Friday night, ready to get the sissies drunk and pour more swill for the swine at 1137, aka "Trailer Bar," aka "Under the Bridge." Wouldn't want the slags and fags to think I'd actually abandoned them for an entire Friday night . . . they might start applying for my job.
But if the desk clerk at either hotel looks like Vincent D'Onofrio . . .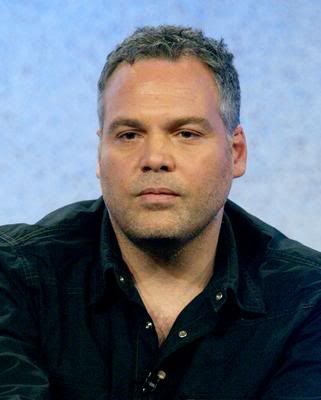 well, the cat and I will just send for our things . . .